Billie started repeating herself, giving information again and again. Valerie would gently remind her that she'd already said something and it seemed like no big deal. Over time, though, it began to get worse. Valerie tried to hold on to the little moments of clarity, asking her mom to write down people in old photos and walk through the years of memories. Soon, Billie's personality began to shift. The once warm and welcoming hostess became defiant and irritable.
Billie had dementia, and it progressed quickly. Dementia affects nearly six million older adults and is a group of conditions characterized by impairment of at least two brain functions, such as memory loss and judgment. Symptoms include forgetfulness, limited social skills, and thinking abilities so impaired that daily function becomes a struggle. Valerie describes it as the most insidious disease there is. In her mother's experience, it robbed her of who she is and who she used to be.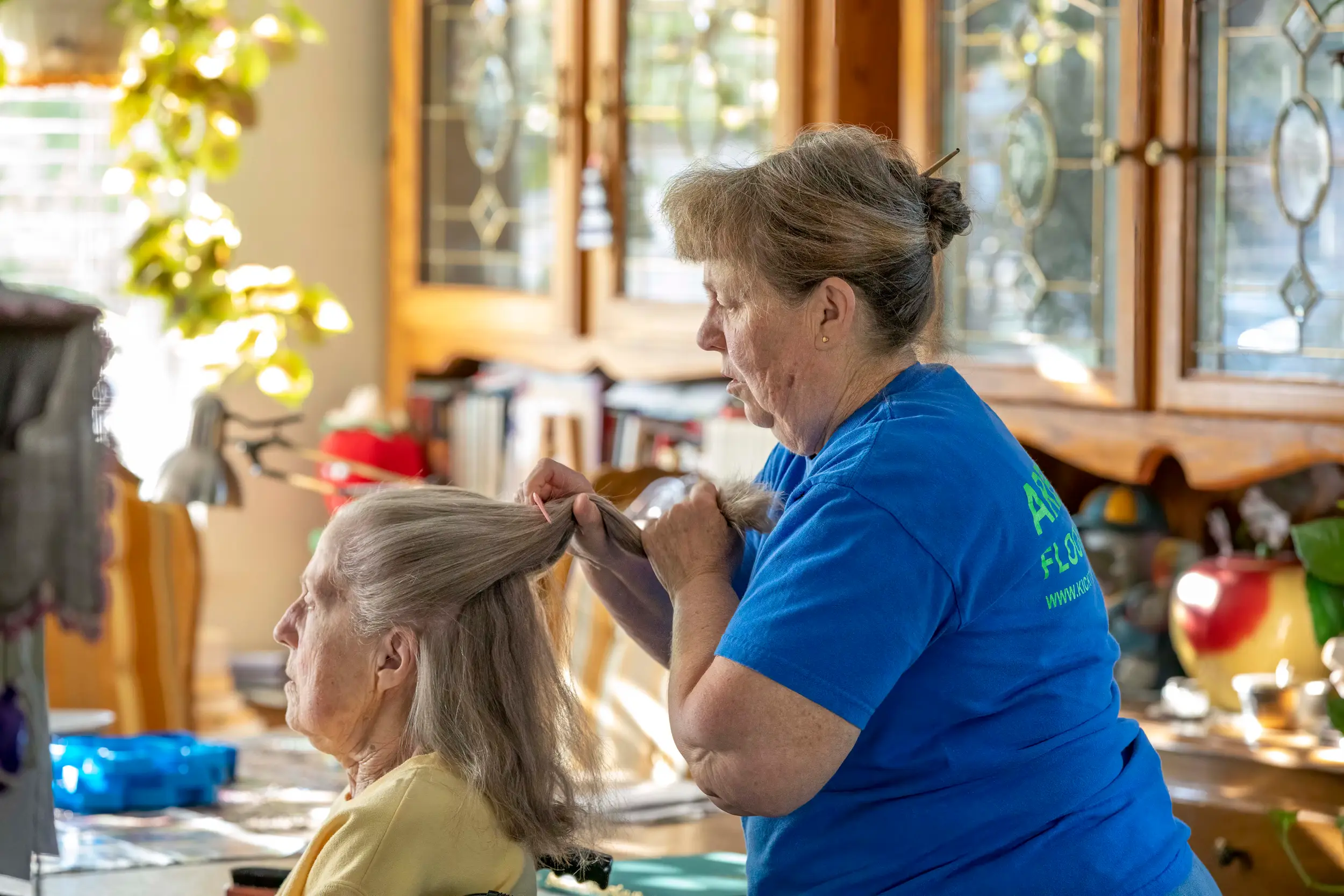 When the disease got bad enough that she couldn't function on her own, Valerie and her husband, Jerry, made the difficult decision to move her mom in with them. That's when the serious symptoms began to show. One morning, Valerie told her mom to put on deodorant and looked over to find her putting it on her face. Choosing to see the humor in life, Valerie kindly laughed it off and helped her mom get clean – but that was one of the days she knew her mom was declining quickly.
Beyond the emotional stress and time strain, caring for her mom caused problems for Valerie and Jerry's tile cleaning business. They couldn't leave Billie alone, but they needed to work. Fate stepped in, coming in the form of a bus advertisement.
At a stoplight one day, Valerie saw an ad on a bus for a senior dementia day program. She quickly grabbed a scrap of paper and scrawled the number down, calling them once she got home. From that day on, Valerie has relied on Senior Daybreak to care for her mom nearly every single weekday.
Senior Daybreak is an adult day program for seniors or adults with dementia. It was designed to serve two audiences as a place to give respite to caregivers while also helping the senior citizens maintain their quality of life. Caregiving for a loved one with dementia is a 24/7 job, and it takes a toll. In fact, 18% of dementia caregivers die before their loved one.
The need to give caregivers a break, let them work, and have time with their families is the reason Senior Daybreak began in the basement of a Grand Junction church. After five years, they were large enough that they came to the local nonprofit Hilltop Community Resources for help. Hilltop provides community services from birth to death throughout Mesa, Delta, Montrose, and Gunnison Counties in western Colorado. They do everything from helping pregnant women get access to Medicaid and CHP+ to taking care of seniors in their twilight years, making sure they have the best quality of life possible.
Hilltop purchased Senior Daybreak and began running the operations out of a new space, with new resources. Cathy Story leads Senior Services for Hilltop and oversees the Daybreak program. Hearing their stories and giving seniors a sense of purpose in their lives has become Cathy's passion. Partnering with Rocky Mountain Health Plans, the Medicaid Single Entry Point ("SEP") agency for Mesa County, Hilltop is able to make sure the seniors Cathy cares for qualify and receive all the support they need from the Medicaid program so that Senior Daybreak can succeed.
Now that she has Senior Daybreak in her life, Valerie is able to feel a sense of relief every day, even if it's just for a few hours.
With program support from Rocky Mountain Health Plans, expanded resources within Hilltop, and Cathy's leadership, Senior Daybreak is now able to tailor their activities to the individuals they serve. They have singing, dancing, and even a software system that seniors can use to build their own playlist based on their favorite music. Families can send in pictures for Senior Daybreak to create a whole picture album to share if a senior is having a hard day. This helps the seniors to understand who is coming to pick them up at the end of the day. Senior Daybreak also has art, crafts, exercise, and outdoor activities, like gardening.
Now that she has Senior Daybreak in her life, Valerie is able to feel a sense of relief every day, even if it's just for a few hours. The center has given Valerie her days back so she can focus on work and time with her husband. Dropping off her mom in the morning feels like a weight is lifted off of her shoulders, giving her the rejuvenating time away to come back with energy and confidence for the tough evening of caregiving that lies ahead.
Senior Daybreak is only able to scratch the surface of the need in Grand Junction. As the only facility offering these services on the Western Slope, their current space is only able to accommodate around 25 people per day, but there is a need for so much more. Cathy and her team at Hilltop, as well as Rocky Mountain Health Plans, continue to look for new ways to serve people living with dementia in Grand Junction and across rural Colorado communities.